Early Prevention of Dental Problems
Preventive dentistry begins with your child's first tooth. As a parent, understanding the importance of preventive dental treatments can help give your child a lifetime of healthy habits. Dr. Bozic prefers to see children for their first dental visit between 18 and 24 months. Our staff is dedicated to providing preventive services and will personalize a program based on the co-diagnosis with you and your child to reach these long-term goals.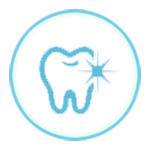 Complete Evaluation of Your Child's Dental Needs

Sealants - Offer an Effective Treatment in the Prevention of Tooth Decay

Fluoride Application - Makes Teeth Resistant to Decay
Brushing - Teaching Proper Techniques to Your Child

Dental Development - Ongoing Monitoring of Your Child's Dental Growth

Sports Safety - Protection for Your Child's Teeth
Damon Orthodontics - Creating Attractive Healthy Smiles for a Lifetime

Hygiene - Regular Dental Visits Focusing on Prevention
Your child deserves a healthy smile! Many children suffer from headaches, daytime fatigue, inability to concentrate, breathing problems, ear pain, overcrowding of teeth, and thumb sucking habits. Early diagnosis and, if indicated, a 2-phase orthodontic treatment will help improve the appearance and function of your child's teeth. We prefer using
Damon Smile Orthodontic Appliances
to keep your child's teeth healthy.
Broad and Beautiful Smiles - Mouth breathing can cause narrow arches and unattractive smiles. By using functional appliances while children are actively growing, we can help them achieve a broad, beautiful smile.

Healthy Jaw Joints - Many children with narrow jaws, deep overbites, or receding lower jaws have unhealthy jaw joints that can cause headache, neck pain, dizziness, earache or ringing in the ears, fainting, clicking or locking jaws, and difficulty in opening jaws. The early use of functional appliances can prevent or eliminate these problems.

To Breathe Freely - Mouth breathing can lead to orthodontic and other problems, such as lack of oxygen and poor sleeping habits. This leaves children prone to daytime fatigue, inability to concentrate in school, and headaches.

An End to Ear Pain - Deep overbites and receding lower jaws may cause earache, stuffiness, or ringing in the ears. If infection has been ruled out, functional appliances can eliminate these symptoms effectively.

Facilitated Speech Development - Narrow jaws can confine the tongue and interfere with normal speech. Functional appliances help ensure proper growth and greatly enhance a child's ability to speak normally.

Your Support - Parents want the best for their children–straight teeth, properly sized jaws, straight profiles, and beautiful smiles. By treating problems early, you save money and prevent the need for a more extensive future treatment.
Teeth are straightened with braces.

Braces usually take about 1 1/2 to 2 years to complete a treatment.

Teeth are whitened during this time.
Why are Functional Appliances so Important?
Airway Problems

Bite Problems

Crowded Teeth

Deep Overbites

Jaw Joint Problems

Narrow Arches

Thumbsucking Habits

Underdeveloped Jaws
Crowding

Fang-Like Tooth Appearance

Lengthy Use of Braces

Removal of Adult Teeth

Speech Difficulties
A protective barrier bonded to the chewing surface of a tooth. It prevents bacteria from accumulating into the tiny grooves on the surfaces of the teeth. This does not eliminate the need for proper dental care, but it is recognized as an effective and valuable asset in preventing tooth decay. The application of sealants is performed by the clinical team and does not require anesthetic or drilling into the tooth.
Learn More About Our Dental Services
From preventive
dental care
to functional appliances, we have you covered. Call us today to learn more about our dental services. Our team will gladly book an appointment for you and answer all your questions and concern. We look forward to hearing from you.